How to Promote your Business Using VMS Signs 
Ashley Woodcock
Promoting and advertising your business is crucial for the survival and future growth of the business. It's about getting the right message, to the right people, at the right time. 
Unfortunately for many businesses, humans have become accustomed to ignoring many of the advertisements that they see, especially the repetitive advertisements online. Offline advertisements such as static signage can also become ineffective because they tend to blend in with their surroundings and the hundreds of other static signs around. 
Using VMS Sign is a great way to stand out from advertising clutter and promote your business. 
What is a VMS Sign?
VMS Signs also known as Variable Message Signs, are ultra-bright display signs that effectively convey a message. VMS Signs can be used for a variety of different applications including advertising, events and traffic management. They are portable and dynamic, meaning that messages can be changed as required.  When used for advertising VMS Signs aim to specifically target and stimulate new customers, as well as remind past and present customers that you are still open for business
So how can a VMS Sign get your business noticed?  
A VMS Sign is a great advertising tool to create awareness, enhance sales, create demand and communicate information to your target audience. VMS Signs can increase your business's traditional target audience because they have the ability to reach both motorists and pedestrians. 
When placed correctly a VMS Sign is a highly effective visual display and a low-cost advertising method, especially when compared to other advertising applications. The ultra-bright LED lights on the VMS Sign ensure your sale or event can be promoted even if weather conditions aren't favourable, unlike other outdoor advertising signage. 
Now that you know what a VMS Sign does and how it can be used to promote your business, the next step is creating a successful message. We have shared 3 tips to keep in mind when deciding on the perfect message.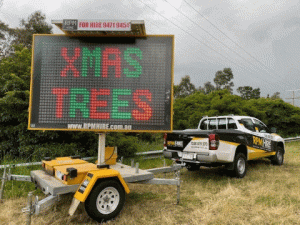 Tip 1: The right message
Many of us have heard the phrase "it's not what you say, it's how you say it", this also applies when creating the right message to target your desired audience. A successful message must be simple yet powerful enough to capture the attention of your audience. 
When using a VMS sign to communicate a sale to your customers, it is highly recommended to include an end date of the sale. This will create a sense of urgency among your audience, to take action prior to the sale ending.
When promoting or advertising an event key details should be included in the message such the dates, start and end times and the location of the event.
If you're unsure what details to include in your message, you can discover a range of different visual examples of event and sales advertising messages on our FAQs Page  
Tip 2: Size matters 
When it comes to getting your message seen, timing and the length of your message really does matter. Depending on the location of the VMS Sign, a motorist will either noticed the sign as they are passing by or while they are stopped in traffic. Your message can be displayed over multiple screens, we recommend keeping messages to 3-5 screens. Each screen on the VMS Sign displays for 2-3 seconds, therefore it's important to keep your message clear and concise to ensure it receives maximum exposure. 
Resist the need to overload your audience with too much information, which can make your message confusing and difficult to read. Or even worse your message may get missed. We suggest keeping messages to a maximum of 3 lines per screen, that way the text can be easily read from a distance or close by. 
It is important to keep your message short, sweet and to the point.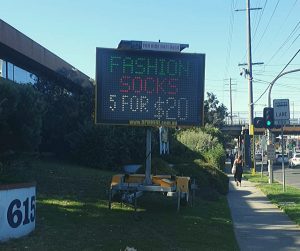 Tip 3: Bright and bold 
Don't be afraid to use colour in your message. 
Colour is eye-catching and can make the simplest message get noticed. It's a fact that bright colours stand out!  VMS Signs have high quality 5 colour LED display to make your message bright and viewable from a distance. 
When creating a message to promote your business using a mix of bold bright colours in your message will help capture the viewers' attention. Choose 1-2 colours that suit your message and company branding. 
VMS Signs have the latest LED graphics that can be used to create animations, icons and logos in your advertising message, to further enhance brand recognition. Adding your company logo or name into your message is a fantastic way to quickly inform customers of the location where the sale or event is taking place.
The most effective message is clear and easy to read, communicates the right information and triggers a response from your target audience. We specialise in providing high-quality advertising signs, visit our advertising signs page for further information. 
Our team can help you to create the right message to promote your business, contact us online or via phone on 1300 479 570 for a free quote!
Don't take our word for it, see how VMS have helped customers just like you promote their businesses!