QuadGuard Hire in Melbourne, Sydney, Brisbane and Hobart.
The QuadGuard M10 is a relocatable crash cushion that offers the latest technology for shielding hazards 610mm to 915mm wide. Consisting of an engineered steel nose and crushable, energy absorbing cartridges surrounded by a framework of steel Quad-Beam™ panels. The QuadGuard crash barrier is available to hire throughout Australia with RPM Hire. The QuadGuard crash cushion has been tested to the highest standards and is rated Manual for Assessing Safety Hardware (MASH) Test Level 3.
How does the QuadGuard system work?
The QuadGuard M10 system utilises two types of cartridges in a "staged" configuration that are designed and tested to address vehicles as defined by MASH for both lighter cars and heavier, high centre-of-gravity vehicles. During head-on impact testing within MASH criteria, the QuadGuard M10 has been shown to telescope rearward to absorb the energy of impact. When impacted from the side, within the applicable MASH criteria, it has been shown to redirect the vehicle back towards its original travel path and away from the highway feature.
RPM Hire can offer full turnkey solutions from QuadGuard hire to expert installation services by our dedicated barrier teams, we work together with our customers to ensure the project runs smoothly from beginning to end.
Key Features
Compliant to MASH TL3.
Self-supporting steel nose.
Tension strut backup.
Monorail guide stabilizers.
Quadguard can be anchored to a variety of surfaces including concrete and asphalt.
High strength Quad-Beam™ panels.
Does not require the use of anchoring chains or tension cables.
Damaged cartridges can be replaced in a timely manner.
Potentially reusable after an impact within MASH crash test standards
QuadGuard can be deployed with Concrete barriers, Steel barrier and HighwayGuard
Specifications (Test Level 3 System)
System Length
Effective Length
System Width
6.71m
6.30m
610mm
QuadGuard Diagram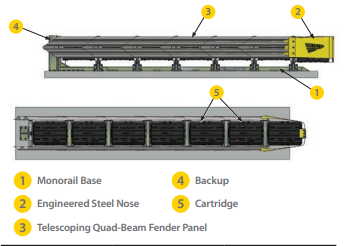 We can help with every step of the process!
It's simple, we are here to help! What's most valuable to us is that you, the customer, get the maximum return from using our products. We are available via phone or email to help you out along the way!
Call today for a free quote!