RPM Hire temporary concrete jersey barriers available for short and long term hire in Melbourne, Sydney, Perth, Brisbane and Hobart.
We stock J-J Hook and DeltaBloc (DB80) concrete jersey barriers, that are compliant with Australian road standards. Concrete barriers are strong, robust and instantly recognisable. They provide a physical barrier and protection for motorists traveling through roadwork zones, in addition to the site workers in construction zones behind the barrier.
The RPM Hire team are trained and experienced in hiring, safely transporting, installing, and removing JJ Hooks and DeltaBloc (DB80) concrete traffic barriers. Concrete traffic barriers provide a high level of containment and offer improved safety on roads for motorists, pedestrians, and site workers.
Key Features
Greatly improved safety for workers in construction work zones
Concrete road barriers have a low maintenance cost
Compliant with Australian road standards
Provides a high level of containment and protection
A range of installation options; barriers can be free-standing, bolted, or pinned
Easy to replace a damaged barrier
Optional Gawk Screens available to hire
Optional End Treatments available to hire
Measurements
JJ Hooks – F-Shaped Barriers
Height
810mm
Width
606mm
Lengths
3.6m, 6m
DELTABLOC DB80 K150 
Height
800mm
Width
580mm
Lengths
2m,4m,6m
| | |
| --- | --- |
| JJ Hooks – F-Shaped Barriers |   |
| Testing specifications | MASH Test Level 3 |
| Suitable for roads up to | 100km (VIC & NSW) |
| | |
| --- | --- |
| DELTABLOC DB80 K150  |   |
| Testing specifications | MASH Test Level 3 |
| Suitable for roads up to | 100km (VIC & NSW) |
Concrete Barrier Hire – Absorb 350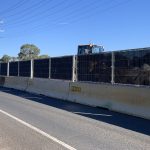 Concrete Barrier Hire – Screening/Fencing 
Barrier screening available for hire. Safety screening panels can be secured to the Concrete Barrier for enhanced safety and privacy.
RPM Hire have two types of concrete traffic barriers available for hire; DELTABLOC DB80 and JJ Hook barriers.
After a different type of road safety barrier?
Explore our full equipment range here, including Jersey barriers, Steel Barriers, Water Filled Barriers, the HighwayGuard and Klemmfix.
We can help with temporary concrete barrier deflection information.
RPM Hire offer concrete barriers for hire and concrete barriers for rent.
RPM Hire have concrete barricades and other temporary road barriers available for hire with a range of end treatments and barrier screens, if you have any questions about any of our equipment contact us online via our contact from.
For concrete barriers Melbourne, concrete barriers Sydney, concrete barriers Perth, concrete barriers Brisbane or concrete barriers Hobart call RPM Hire today.
Temporary concrete road barriers are considered essential pieces of equipment for traffic management and construction site safety.
RPM Hire offer transparent and affordable pricing, speak to one of our equipment specialists on 1300 479 570.
Temporary concrete road barriers are often referred to as temporary concrete barriers, Concrete road barriers, Concrete jersey barriers and Concrete traffic barriers.
In addition to road safety barriers, we stock an extensive range of crash cushions including the Smart crash cushion, Absorb M, Absorb 350, SLED , Raptor and QuadGuard CZ. 
RPM Hire operate throughout Victoria,New South Wales,Queensland, Western Australia and Tasmania, but service Australia wide.
For fcrashionurther reading we have put toegther a comprehensive series called the crash cushion 101 series, discussing each crash cushion in detail including the Smart crash cushion, SLED , and QuadGuard CZ. 
MASH Rating Information
RPM Hire concrete barriers available for hire are MASH tested to level 3.
What is MASH testing?
Manual for Assessing Safety Hardware (MASH) comprises of a set of crash performance criteria for testing roadside safety hardware, created by AASHTO. The MASH guidelines and testing criteria, have evolved over the last 40 years and continue to incorporate current technology. In addition to the judgment and expertise of professionals in the field of roadside safety design.
Why is MASH testing important?
The purpose of MASH testing is to provide uniformed guidelines for the crash testing of both permanent and temporary highway safety features and recommended evaluation criteria to assess test results.
The performance criteria allows for the transportation industry to provide permanent and temporary road side systems that meet predicted performance through testing consistency, ensuring the correct road safety equipment is used for the required speed limits.
How are concrete barriers MASH tested?
Concrete barriers go through full-scale crash testing, barriers are installed and tested in a controlled environment to see how well they perform.
RPM Hire has DeltaBloc (DB80 concrete barriers) available for hire, which are MASH approved TL-3. This approval means that the barrier has been tested by beings hits with a 2270kgs pick-up truck/ute travelling up to 100km per hour with impacting angle of 25 degrees.
Our team of barrier specialists are ready to help make your concrete barrier hire a simple process, and are here to answer any questions regarding safety and MASH rating. – contact us now.
We can help with every step of the process!
It's simple, we are here to help! What's most valuable to us is that you, the customer, get the maximum return from using our products. We are available via phone or email to help you out along the way!
Call today for a free quote!