The Northern Road
Ashley Woodcock
PROJECT BACKGROUND
The M4 Closure, for the Northern Road – Bridge Demolition was labelled one of the highest profile closures in New South Wales, as the M4 freeway had not previously been closed for that period of time. The goal was to minimise disruption for motorists and residents by demolishing the old bridge in 3 days of intensive work,  as opposed to months and months of night time closures. It was a joint planning effort over 8+ months, with input from TMC, RMS, Lendlease and RPM Hire as the experts in VMS, and other traffic management devices.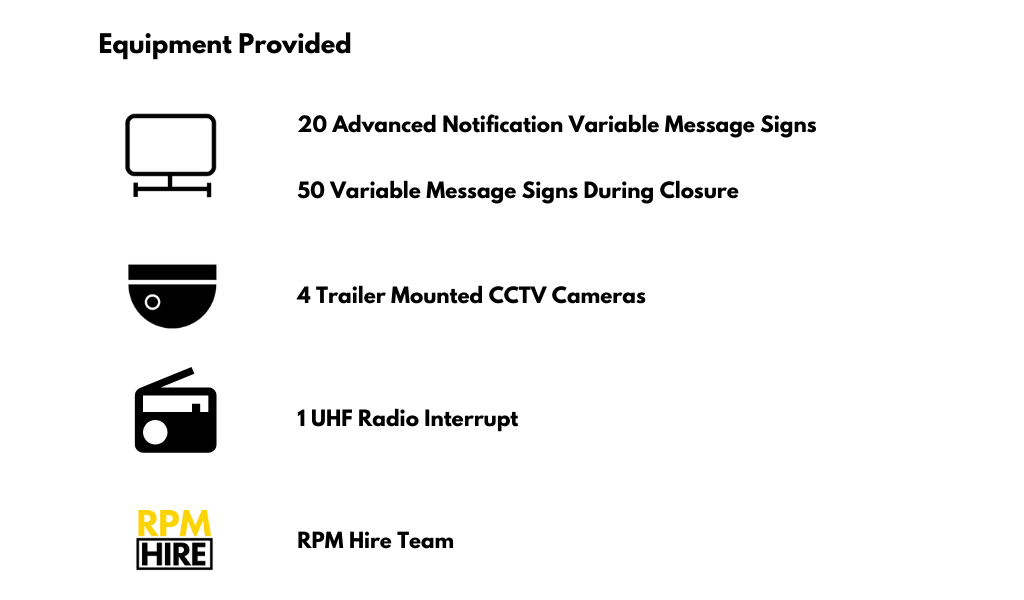 SOLUTION
RPM Hire provided and managed one of the largest quantities of Variable Message Signs (VMS) packages for a project, including 20 x Variable Message Signs (VMS) for advance notification, 2 weeks prior to the closure. The purpose of the advance notification signs was to influence driver behaviour and communicate the closure to drivers ahead of time.
An additional 30 x VMS were delivered, set up and programmed for operation during the closure, bringing the total VMS for the project to over 50 x VMS. The purpose of the VMS during the closure was to communicate the closure and direct the public along alternative routes for drivers. The messages on these signs were managed by the RPM Hire team.
4 Trailer mounted CCTV Cameras with remote access straight into Transport Management Control were provided to allow vision onsite. This assisted with ensuring traffic ran smoothly throughout the closure. The cameras also allowed for changes to be made in real time and to help identify potential hazards. The portability of the trailer mounted cameras, meant that they could be shifted during the closure to 'hot spots' or any areas where TMC wanted live vision. Critical spots included watching end of queues on the M4 freeway, and watching challenging intersections where temporary traffic changes were needed to facilitate the closure.
1 UHF radio interrupt was provided to broadcast messages on the truckies channel as part of the multi-faceted communication campaign, advising trucks on the best detour route.
RPM Hire team were on the ground 24/7 during the closure and in the Joint Operations Control. The team made changes to messages as required and ensured all equipment operated effectively
PROJECT RESULTS
The multi-faceted communication campaign was highly effective, with a 45% reduction in Northern Road traffic throughout the closure, and only minor delays for traffic on the M4, peaking around 11 mins, but under 5 minute delays for the majority of the time.
The Variable Message Signs were used to effectively communicate with drivers to influence behaviour, and the advance notification VMS ensured that a lot of road users had avoided the area during the closure.
The M4 Closure was hailed a massive success by the manager of transport and road projects, at the transport for NSW, with RPM hire receiving special mention for their tireless work, effective communication and cooperation with the client, transport management centre staff and the RMS Network operations team.