Preventing Traffic Accidents During Roadworks and Construction
Ashley Woodcock
When it comes to roadworks or construction projects near major roads, safety is of the utmost importance. Equipment such as Variable Message Signs, Portable Traffic Lights, Portable Light Towers and Crash Cushions are an essential part of any project. While the last few years have seen the number of users, and subsequently the number of collisions, on our roads decrease due to the pandemic, 2019 saw an increase in the number of accidents, injuries and deaths on Australian roads.
As the country begins to get back to normal and traffic levels resume, it is vital that those organisations implementing roadworks or undertaking construction equipment are focusing on safety. These kinds of works typically require lanes to become narrower, removal of hard shoulders and traffic to slow down, which can often lead to accidents as drivers are unaware of these changes.
How to prevent traffic accidents
Reducing the risk of accidents and collisions during construction and roadworks requires a multipronged approach. Here at RPM Hire, we know how important safety is, which is why we offer a huge array of equipment designed to help you maximise the protection of your staff and road users. Some of the most critical include:
One of the most important additions to any roadworks or construction project is the addition of Variable Message Signs. These are an essential solution in helping to convey critical messaging to road users.
Variable Message Signs should be placed before roadworks begin, but it is important that they are not placed directly on roads. VMS Boards can also be used throughout road works to communicate with motorists about the changing road conditions, any alternative routes available, and live lane closures.
Our 100% Australian-made Variable Message Signs can be equipped with accessories such as speed detection radar and CCTV Cameras. Speed detection radar can operate with VMS boards to provide pre and post warning messages to motorists depending on their speed through a worksite, e.g. if a motorist is speeding through a worksite the VMS board could display the message TOO FAST, SLOW DOWN. Likewise, CCTV Cameras provide 24/7 eyes onsite and traffic, with the ability to record traffic movements and volume, as well as building site and equipment monitoring.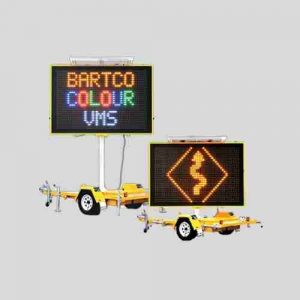 Crash Cushions are another vital piece of equipment in keeping road workers and drivers safe. We provide complete turnkey solutions when it comes to crash cushions, ensuring each project is as safe as possible. Here at RPM Hire we offer a range of approved crash cushions including the well-known QuadGuard, Absorb M, SLED Crash Cushion, Smart Crash Cushion, and the Raptor Pole Protector. If you have any questions regarding Crash Cushions, reach out to our barrier team, who will find you the correct Crash Cushion for your next project.
These crash cushions can be used on a range of road barriers for added protection, and our experienced team are able to deliver and install them according to road authority guidelines and codes of practice.
The use of crash cushions will vary depending on the project, but our team will ensure you are covering each key area. Contemplating which crash cushion to hire for your next project? We have put together an easy-to-digest one-page barrier and crash cushion guide to help you decide – Download the PDF for free now.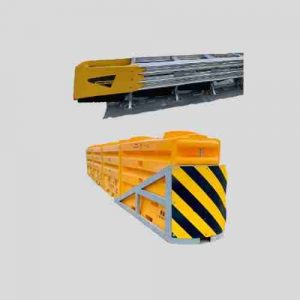 Portable Traffic Lights are a great solution in helping to control the flow of traffic through construction or roadwork sites. Here at RPM Hire, our Portable Traffic Lights are solar powered and come with a backup battery, ensuring they are always operating as required. They also feature 200mm LED lanterns for maximum visibility.
Installing Portable Traffic Lights in those most important sections of your roadworks such as T-Junction and intersections. This will ensure a smooth flow of traffic, reducing the risk of a collision from cars traveling in opposite directions.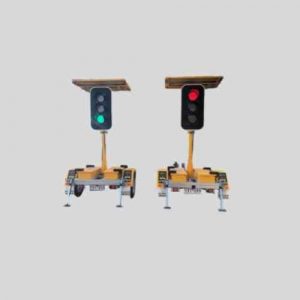 Another vital addition to any construction project is the use of Portable Light Towers. These mobile solutions provide maximum illumination throughout the night, ensuring site traffic, road users, workers, and pedestrians are always able to clearly see their surroundings.
Our Portable Light Towers offer over 200 hours of operational time and can illuminate 3,800 square metres with their LED lamps, providing maximum coverage of your site. We have a range of lighting solutions available that can help keep your sit well lit this summer, including solar-powered lighting towers, eco portable light towers (as discussed above) and the soft light 360 degrees portable light tower.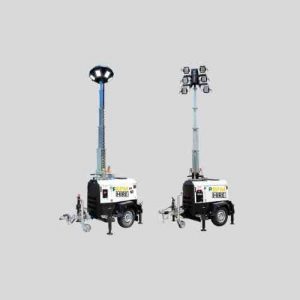 Want to find out more?
No matter whether you are looking for Variable Message Signs, Crash Cushions, or Portable Light Towers or Portable Traffic Lights, RPM Hire is here to help you. We know how important the safety of your team and other road users is, which is why we have a huge array of solutions available.
So, if you have a construction project or roadworks to complete, RPM hire can help provide traffic management equipment for your next project. 
 Want to find out more? Get in touch today on 1300 479 570 or contact us via our online form.